Our Testimonials
Gary B - November 7, 2022
Thea helped with my initial Medicare decisions. She was wonderful. Found plans that I didn't, which offered better coverage for less cost. She follows up regarding satisfaction and is available for any questions. Frankly, with Thea available, it's almost silly to go through the Medicare Plan selection process alone.
Anne W - November 3, 2022
Thea has always been so helpful in guiding us to the right plan for our needs & at $0. cost !! She even researched if another plan would cover Shingrex vaccine cheaper… Glad you are there to sift thru all the info & guide us thru changes from year to year !!
Gregory Worth - November 3, 2022
She walked us through the confusing and fustrating medicare sign up time with ease and made it so easy and under standable, thanks
Patricia Catusco - October 27, 2022
Thea was recommended to me by the insurance broker we use for the business where I work. I turned 65 and was reading everything about medicare, which only confused and frustrated me. From the first time I talked to Thea she put me at ease. She was very professional and knowledgeable. She patiently explained everything, and advised me of all my options. I felt confident when I chose the plan that worked best for my needs. I would highly recommend Thea to all my family and friends.
Debbie Fogleman - October 20, 2022
Thea has helped us through the maze of information to select the best plans for me and my husband!!
Ken Kornfield - October 19, 2022
I highly recommend working with Thea. It's been a great experience on every level
Marie Jago - October 18, 2022
Thea is amazing! She is knowledgeable, patient, a good listener, and detailed. Thea makes the Medicare process less stressful. I recommend her services to anyone signing up for Medicare.
Rina Costello - August 15, 2022
My husband was ready to apply for Medicare. After trying on our own to figure out Medicare Parts A & B and what supplement was the best for him we became frustrated. Thankfully, we were referred to Thea. She made the process so easy to understand. She is knowledgeable and detailed. She took the time to answer our questions and provide us with the information we needed. We were so grateful to have Thea's help. When everything was completed we felt so confident in our choices and more importantly the worry and anxiety we felt was gone. Plus, she's kind, considerate and patient. Thank You Thea for all your help!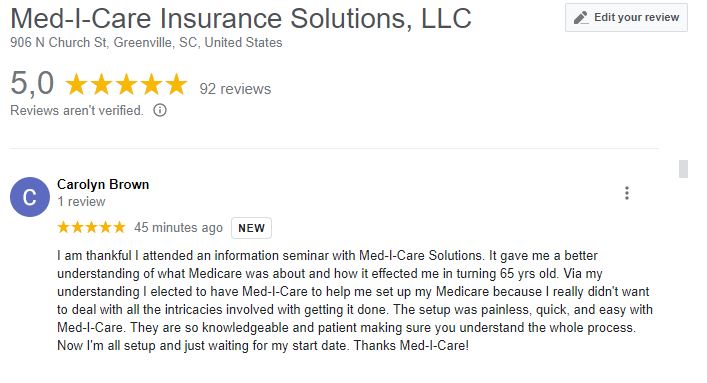 Dianne Ferrara - August 11, 2022
Thea is the best. She is very knowledgeable, she answered all my questions and helped me find the best medical coverage for my needs. She was helpful, personable and always treated me as a friend not just a client. I will gladly refer her to anyone who needs help with Medicare. I look forward to staying in touch with her going forward. Thank you Thea!
L Sheehy - August 11, 2022
Thea is knowledgeable and a great resource. She always goes the extra mile to assure the best service and plan. Recommend her with the highest praise.
Mark Frawley - August 1, 2022
I found Thea via a referral from another broker not licensed in my state (NY), who as it turns out was her mentor ! I wasn't expecting much but it turned out Thea is a delight to deal with for my initial signup. I really enjoyed her personality, which comes through on the phone. I was already fairly informed about everything and she saw that, not wasting any time on preliminaries I didn't need. My wife will soon be eligible and we'll definitely be back for that ! I look forward to a long relationship with her firm.
Paul G - July 12, 2022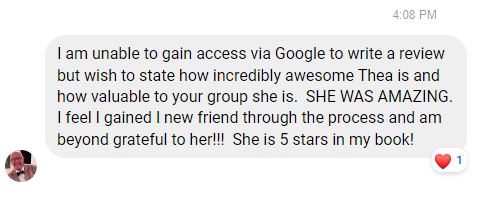 Marianne Gauvard - July 12, 2022
Thea was amazing. She was both professional and kind.
Janice Heinemann - July 7, 2022
Even though I had done a lot of research in advance of reaching out to a broker, Thea pointed out some info relative to my state (NY) that made my choice between a supplemental plan and an advantage plan easier. She listened to my needs and concerns and recommended the perfect plan. I feel I'm in good hands as we continue the medicare journey together
Robin Turin - June 15, 2022
Thea was very informative. She knows her stuff! She was very warm and friendly and helped me pick out the right plan for me. She has promised she will be there for me, just a phone call away should I need her help in the future.
Betsy Calvert -June 1, 2022
Thea explains the system better than I could have imagined. She is an extremely good navigator.
Lois P - June 1, 2022
Working with Thea is like having a trusted friend guide you through a complex maze. Being new to Medicare, I was stressed about the transition and dreaded the process. Thea to the rescue! She patiently outlined the pros and cons of my options and helped me make informed choices. Then she handled all the enrollment details. Thea is a consummate professional and such a kind, caring person. Her attention to detail is superb. I am incredibly grateful for her services and give her my highest recommendation.
Stephanie Woods - May 21, 2022
Thea was awesome! She explained the interchange between Tricare for Life and Medicare and how fortunate I was to have both!! She stopped me from overpaying on my MediAdvantage plan and took the time to find the one where my medical providers are! She answered all my questions and scheduled another session to get me enrolled in my plan. Thanks, Thea!!!
Pam Koncki - May 14, 2022 Google Review
A friend recommended Thea, and what a great recommendation it was. Thea takes the time to outline the best plans AND the most cost-effective options. She will not recommend anything that she doesn't whole-heartedly believe will serve a client best. That is beyond comforting, especially given the intricacies of Medicare supplemental insurance/drug coverage enrollments. Definitely recommend working with Thea!
Kevin Sharkey - March 1, 2022 Google Review
Thea and Med-I-Care were incredibly helpful, clear, professional. She made a complicated process very easy and got me signed up and set up through a few calls. The guidance, knowledge and handling of my Medicare sign ups was invaluable. I highly recommend Thea and Med-I-Care!

Gloria Fernandez - Feb 10, 2022 Google Review
A friend of mine referred me to Thea couple of months ago.She gave me a call right away but i was not ready then.Then came the time i needed help to make decisions regarding Medicare and she patiently explained to me the pros and cons regarding which one would be a better plan for me.What i appreciated too was with her being a Filipino, she asked me if i like us to discussed it in out native tongue and it helped me better understand.
And she was not one of those who try to pushed you to make decision right away.
I really appreciated her honesty to me. I know have someone to call when i needed something.
Karen Johansen - Jan 26, 2022
I found Thea on the web and was not sure if she would be a good person to contact. She most certainly was! I have been in customer service for years and I could tell right away that she was knowledgeable and caring. She really gave you the feeling of wanting to help you make the correct decisions. She was very patient and explained the process very clearly. I would definitely recommend her to my friends. I consider myself very lucky to have her as my Medicate representative.
Stephen Murphy - Jan 21, 2022
Service was quick and professional with lots of follow up to make sure I was happy with my choices. Very happy with Med-I-care and would suggest trying them to anyone looking for Medicare help.
Jim M - Jan 13, 2022
Joining or modifying any Medicare plan is always quite the chore.
One simple phone conversation with Thea and it all came into focus.
She really knows her way around the medicare programs.
I would highly recommend her services to anyone planning to open, or modify an existing Medicare plan.
Jeffrey Williard - Jan 10, 2021
Anytime you are negotiating within a Federal agency it can be very complicated and uncertain. Thea provided absolute guidance with efficiency and purpose. I am absolutely confident in the direction that I have entering into Medicare. Thank you Thea. I would absolutely recommend Thea to anyone entering or looking for a review of their Medicare.
Deborah Frost - Dec 27, 2021
Being new to the world of Medicare, Thea and her staff are very informative.
Thea and staff are pleasant, knowledgeable and make Medicare understandable. Never rushed through. I would recommend this business
Joy Williamson - Nov 30, 2021
Whether you're enrolling in Medicare for the first time, during a Special Enrollment Period, as I did last year, or re-enrolling, as I am now, during the regular enrollment period, working with Thea and her Med-I-Care Insurance Solutions staff will make the process smooth and trouble-free. Thea's expertise and professional, yet always warm and personable manner, gave me the confidence and understanding of all of the Parts of Medicare that I needed to retire confidently. Thanks so much Thea!
Glenn Rasin - Nov 25, 2021
Thea was extremely professional, knowledgeable, and courteous throughout the entire process of registering for Medicare. She succinctly provided all options and guidance required. It has been a pleasure working with her
Mark S - Oct 20, 2021
Thea is the best. She fully guided my wife and me to obtain the best possible Medicare coverage. I recommend her highly and am very grateful for her assistance.!
Linda M. Rice- Oct 19, 2021
Thea has become my guiding light in navigating the Medicare journey. She is patient and listens so well to help me in designing what will work best for my coverage. I feel confident that we selected the right plan for my medical coverage needs. I have faith in her knowledge and guidance!
Lorena Andersen - Oct 13, 2021
Thea is a great rep. She explained everything in great detail and made sure I understood everything. She answered any questions I had and I would refer her to anyone that needs a Medicare rep.
Sandy Koch - October 9, 2021
Thea was recommended to me and I can't imagine how I would have navigated through the decisions and choices that need to be made regarding obtaining Medicare coverage. I feel confident that Thea guided me in choosing the best options for my care and coverage. She was also always so positive and pleasant.
Arlene D - October 9, 2021
I have been with Thea for awhile.she a great resource of knowledge and explains everything very clearly.she talks with you and advises the best health care plan .she checks in every year as things change and helps you figure out the best plan.she schedules phone appointments for follow ups and is very prompt.I would not hesitate to recommend to anyone
Tom Bullock - September 29, 2021
Thea was extremely helpful and informative. She's very passionate about her job and it shows. I could not have managed without her help each step of the way. I highly recommend!
Evan P - September 24, 2021
Thea is highly competent and knowledgeable about the health insurance business. In addition, she is a kind and caring person. She focused laser like on finding the health-insurance policy meeting my needs and let the business side take care of itself later. The policy she recommended paid for itself on the first doctor's visit. Her work is exemplary. Very highly recommended!
Susie Meagher - September 13, 2021
Beginning with Thea's impressive mailer, (inundated with so many others), containing Thea's "creative and meaningful" logo, "MED-I-CARE" (couldn't be truer, Thea TRULY DOES CARE!), to her clear and concise presentation, I am fully confident that I have all of the necessary tools to enter this next stage of my life. Thea and her team have gone over & beyond with "customer care", following-up with promised scheduled calls and making sure I have received all of my cards and information. I have been extremely impressed with her expertise in this field and she has assured me that she will be there for me in future years, assisting me as my needs may change. Thea will not only be my Medicare agent for life, I now consider her my friend! Thanking you again for everything!
Todd Eubanks - September 2, 2021
Up until speaking with Thea, my knowledge of Medicare and related options were clear as mud. After both the preliminary conversation and the subsequent signing up, I now have a very good level of comfort in both the decisions that were made and also knowing Thea is my go to person with any Medicare related aspects. Very highly recommended!
John Whiting - September 1, 2021
Health insurance was my biggest concern transitioning from the working world to being retired. Thea was a great help with that transition.
Maria Decarlo - August 29, 2021
Thea has helped us out twice now. Once last year and once just recently. Without her help we would be totally lost. Thank you Thea!
Sandy Koch - August 28, 2021
Thea was recommended to me and I can't imagine how I would have navigated through the decisions and choices that need to be made regarding obtaining Medicare coverage. I feel confident that Thea guided me in choosing the best options for my care and coverage. She was also always so positive and pleasant.
Brian Heenan - July 29, 2021
Very happy with Theresa's assistance in this process. She was pleasant, thorough & knowledgeable, also very patient, was relatively seamless. I would highly recommend her!
Sandra P - July 27, 2021
I went from one day not knowing anything about medicare other than my window was closing and I needed to sign up ASAP. To say I felt overwhelmed is an understatement. I was given Thea's name and went from in the dark to being able to rattle off the info I was given with a comprehension of what i was talking about! Thea spent an hour on the phone guiding me and didn't move on until I understood what she covered. Step bu step she did this with me. I am happy to say she is my life long medicare agent. :) She has made something so overwhelming and frightening a real learning experience which is empowering.
William Godburn - July 24, 2021
Outstanding walking is through the Medicare process wonderful to work with. Thank you
Lynette Godburn - July 24, 2021
Thea was wonderful! She made a complicated process very smooth. Don't know how we would have navigated through this without her. We highly recommend Medicare Resource. Thank you Thea.
Victoria M - July 17, 2021
Great team to work with and they were on top of all my needs. Highly recommend.
Mary Kay Novak - July 10, 2021
Thea has helped me navigate the Medicare industry when my husband had a stroke. The supplemental insurance he chose before his stroke had a high deductible. Once he was able to renew, I had no idea what would be best. Thea asked questions that helped us get the best coverage for therapy and his medication. I would never have been able to figure it out especially since I was so distraught over his stroke. Thea saved me many hours of trying to figure everything out. I can't recommend her enough.


Joan Tatum - July 9, 2021
As an insurance broker myself, I've worked with Thea for many years. She has provided excellent support and guidance for many of my clients and once I became eligible for Medicare, my first call was to Thea to assist me in getting my application submitted. The process could not have been easier - and quick! I received my confirmation of coverage within 2 weeks of applying. Medicare coverage can be very confusing - do yourself a favor and contact Thea. She'll answer all your questions based on her years of experience and will provide the guidance needed to get the appropriate coverage in place.
Jean Fitzpatrick - June 28, 2021
Thea and her support staff provided a seamless and informative Medicare initial sign-on experience for me. Thea spent time researching and advising me on my Medicare options so that I could choose the best possible coverage to meet my medical needs going forward. I highly recommend Med-l-Care Solutions, LLC for anyone who needs help navigating the complex Medicare System. I am so grateful to have this team as my Medicare Resource. I coudl not have done it
Mike & Tessie Higgs - June 25, 2021

Thea helped us navigate a very confusing transition from work sponsored health insurance to full Medicare. Since then she has always assisted us in getting our preferred coverage at the best rate. She always follows through the entire process until it's completed. We are extremely satisfied with Thea and her staff at Med-I-Care Insurance Solutions. Thank you.
Martha Platt
Thea is the best. She totally walked me through the process and I would recommend her if you need help with Medicare
Harvey Winter
Thea's advice and recommendations turned the complicated and confusing process of selecting a supplemental Medicare plan simple and straightforward. I couldn't imagine doing this without her assistance.
Sharon Johnson
Thea was extremely helpful walking us through the confusing Medicare supplemental options and process. She could explain the options in detail and provide information to easily understand the different options and their cost. Her follow up was wonderful making sure we had all our cards and everything was set to start on time. I highly recommend using Thea for her expertise and excellent customer service.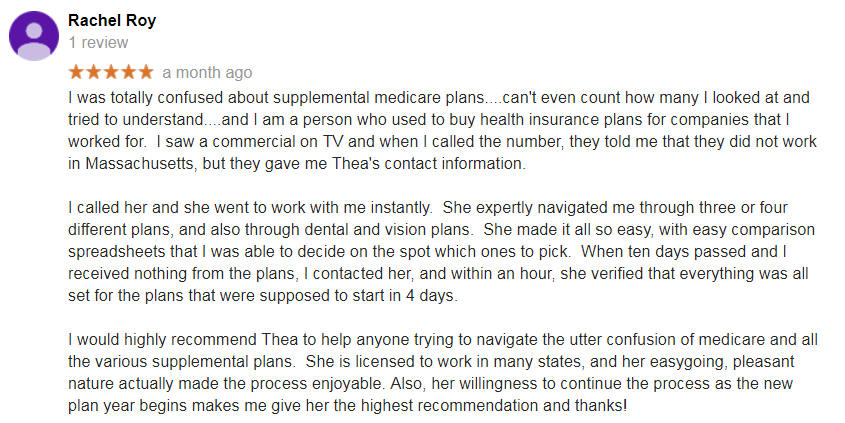 If you would like to read more reviews, please feel free to click here or scroll down for more and read as many as you want!




Matt Principe
Thea provided me with superior customer service and helped me understand the complex world of Medicare. She was friendly and courteous and I can't speak more highly of her. She made it easy to sign up for my Medicare plan and the process was stress free. Many thanks !
Maria Fernandez
"Thea was the greatest help! She explained everything step by step and helped me to make a decision on the best plan for my mom based on her situation. Very professional and knowledgeable in all Medicare products. My pleasure! Thank you Thea."
Harriet Zuk
"Thea and her organization have been amazing at explaining and help setting up all that I have needed. She is terrific and wish that all businesses were that great."
Frances B Pearlman
"Thea was wonderful in offering an educated and concise explanation about the offerings of supplemental plans. She was responsive in a timely manner and answered all of my questions. Thank you Thea."
Diana Sage
" I'm so glad Thea is my insurance agent. I feel secure and confident knowing she's got my back. Thanks, Thea!"
Linda Snyder
"Thea is amazing! Not only finding the right fit for us with insurance coverage but her patience on the phone while searching. But, she also goes above and beyond what you would expect from an agent. While off the main land for a month we had received numerous and unwanted calls regarding our "annual home health visit". We never had and never will do that. When we returned and after telling three different callers we were not interested and to stop calling, I reached out to Thea. She filled a complaint on our behalf and we receive a letter yesterday stating they have removed us from their "Home Visit Call List"!! Thank you, Thea, for all that you do!!"